Devon could run out of landfill space in six years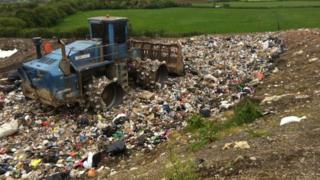 Devon could run out of landfill space in six years, the county council has said.
A council spokeswoman said the county should have until 2023 to reach full landfill capacity.
However, if measures are not successful there will only be space until 2020, she said.
Instead of landfill, most of the county's waste will be burnt or processed to create energy instead.
Alongside incinerators in Exeter and Plymouth, a third energy-from-waste scheme is planned in Devon.
'Nasty business'
The Devon County Council spokeswoman said: "Our view is that a realistic timescale for utilisation of the existing capacity is around 2023.
"The forecast of landfill capacity being used by 2023 already assumes that recycling rates will increase and that other treatment methods such as energy recovery will be delivered before 2020 - if these don't happen, the landfill capacity will run out earlier than predicted.
"From next year only 12% of Devon's local authority collected waste will be going direct to landfill. The rest will be recycled, reused, composted or sent to energy-from-waste facilities."
With space running out, Devon County Councillor Roger Croad said he thinks the county can control the problem.
"We think we're on time, we think we can do it. Just more education, less waste, less landfill. Landfill is massively expensive, and is getting more expensive, and it's a nasty business anyway," he said.
The Devon and Cornwall Food Association aims to stop tonnes of food that is within its use-by date going into landfill by redistributing it to those in need.
Project manager John Curtis said: "I feel sad that we live in such a throwaway society that we're talking about how to deal with waste when we should be talking about how to make things last longer and to share what we've got."