Colebrook flood-prevention work starts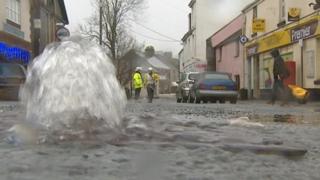 A major scheme to protect a repeatedly flooded village in Devon has begun.
In 2012, some people living in Colebrook in Plymouth were flooded six times, with many forced from their homes for about six months.
Almost 50 homes in the village have been flooded from watercourses, sewers and surface water.
The project, which is costing £2m, includes moving a sewer overflow pipe and is expected to be completed by mid-December.
The pipe, which takes surface and waste water away from homes during wet weather, was "not effectively protecting homes", said South West Water (SWW), which has helped to fund the project alongside the Environment Agency and Plymouth City Council.
Flooded resident Chris Jones said: "It's a lifesaver for some of those in the community, especially the elderly.
"Something had to be done."
Richard Gilpin, head of waste water at SWW, said: "Colebrook residents have suffered from flooding for too long.
"Due to the wetter winters in recent years, the flooding has got more intense and more frequent."
Residents have also been issued with barriers for doors to help protect them from flood water until the work is completed.