Refunds for cancelled show customers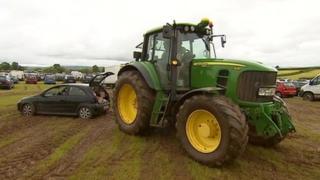 People who bought tickets for Saturday's Devon County Show will be offered a full refund after the third day of the show was cancelled.
Heavy rain left the showground's car parks potentially unsafe, organisers said.
It was the first time in the event's history that the show was forced to end early.
Organisers described the cancellation as "heartbreaking" but said the weather had left them no choice.
Sixteen tractors were on the site near Exeter to tow any stuck vehicles at the end of the second day of the event on Friday.
John Maunder, from the Devon County Agricultural Association, said: "Whilst the abandonment of the show was forced on us by the extreme weather conditions, and will have a significant financial impact, we want to do right by our paying visitors.
"Without their support we would not have a Devon County Show, and the board felt that we should stand by them, just as I hope that they will stand by us."
The association said it would put a form on its website by Wednesday explaining how refunds could be claimed.