Farming leader says Devon County Show will 'bounce back' after cancellation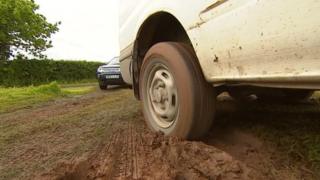 Devon County Show organisers have asked for breathing space before tackling financial issues and questions of compensation after the last day of the event was cancelled over safety fears.
Saturday's exhibitions of the 2014 show were cancelled on Friday after recent heavy rain caused parking concerns.
Secretary Ollie Allen said any long-term implications would be considered.
Local National Farmers' Union leader Ian Johnson said he was confident the show would "bounce back".
'Resilient bunch'
The event near Exeter, which began on Thursday, was due to last three days.
Organisers described the cancellation as "heartbreaking" but said rain which caused fields used as car parks to become "quagmires" had left them no choice.
Sixteen tractors were on site to tow any stuck vehicles.
The cancellation was the first in the show's 119-year history.
Ms Allen said the event's board of management "will be meeting and they will be considering the long-term and financial implications to traders, to everyone".
She said: "We would appreciate space. We need time to close the show sensibly and in a way that is respectful to our traders, visitors, sponsors and our huge band of volunteers."
Mr Johnson said: "They're a resilient bunch and they have lot of ingenuity and a lot of talent on that team that put this show together.
"I have every confidence they will get up, they'll bounce back. This is a setback but it's not a knock-out punch."