Safety concerns cancel Devon County Show's final day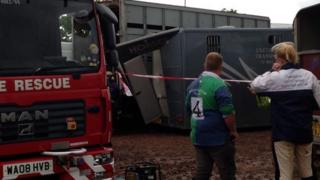 The final day of the 2014 Devon County Show has been cancelled because of safety concerns, staff say.
Organisers described the cancellation as "heartbreaking" but said parking safety concerns caused by recent heavy rain had left them no choice.
The cancellation of three-day event near Exeter, due to end on Saturday, is the first in its 119-year history.
The show saw huge tailbacks and delays caused by the closure of car parks on Friday afternoon.
Financial implications
Show secretary Ollie Allen said: "Quite exceptionally heavy rainfall before and during the show have turned the car parks in quagmires."
She added that 16 tractors had been involved in helping vehicles in the showground.
Recent heavy downpours had saturated some of the fields where visitors parked. Some vehicles had to be towed onto the site at Westpoint.
Organisers said their immediate concern was to get everyone safely off site on Friday when the show closes at 18:30.
The financial implications would be considered later, they added.
Earlier in the day, five vehicles and a pedestrian were involved in a collision which was unrelated to the show's rain problems, a show spokesperson said.
The collision occurred in a car park by the Westpoint showground's Blue Gate at about 14:05 BST.
The pedestrian, believed to be a man in his 70s, was taken to the Royal Devon and Exeter Hospital with what police initially said were serious injuries, but they turned out not to be so.
One male driver who sustained facial injuries in the collision was also taken to hospital and one other person was described as walking wounded.
Two horseboxes were damaged, leaving two animals trapped. One horse had to be sedated while it was rescued, police said.