Flies infest Plymouth neighbour of dead man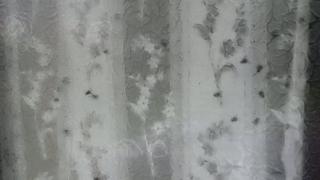 A disabled man says his flat has been infested with flies from a dead man's upstairs flat.
Police removed a 53-year-old man's body from the Plymouth flat on 14 May.
Flies now litter the home of neighbour Nicholas Turner, who lives under the dead man's property, and he said the problem was getting worse.
Landlord Plymouth Community Homes (PCH) said it could not spray the upstairs flat while police were investigating the circumstances of the death.
A large number of flies can be seen in the windows of the upstairs flat in Beaumont Road, St Judes.
Mr Turner, 54, who has multiple sclerosis, also suspects that mice found in his property have entered from upstairs.
He said: "I find it very distressing and it's affecting my health badly, but nothing's been done.
"I reckon there must be about 50 flies in my flat at the moment and I've got rid of hundreds in the last few days."
Next door neighbour Barry Smith, 60, said: "It's disgusting. Surely using some fly spray would not affect the investigation."
Mr Smith said he thought the man's body had been undiscovered for about eight weeks before it was removed.
"A council worker came round and asked if anyone had seen him. We hadn't seen him for a while. Then she saw the windows and the flies and the found the body upstairs."
'Sad situation'
He said he had been ringing Plymouth Community Homes, but they refused to come.
Suzanne Brown of PCH called it a "very sad situation" and her thoughts were with the dead man's family.
"We will do everything we can to support everyone involved.
"The police now need to carry out their investigations and we are co-operating fully.
"This means that we do not have access to the flat in Beaumont Road at the current time."
A spokeswoman for Devon and Cornwall Police said a body of a 53-year-old man had been removed from the flat on 14 May.
She said: "We are waiting for post-mortem result and as soon as we have this we will release the scene."