Devon seaside village of Bantham 'on sale for £11.5m'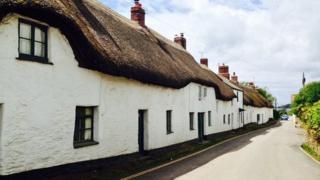 An entire Devonshire seaside village and popular surfing beaches are to go on the market this weekend.
Residents in Bantham, near Kingsbridge, were told last November by owner the Evans Estate that land and buildings in the village would be sold.
The privately-run estate, owned by the same family for several generations, is expected to go on sale with an asking price of £11.5m.
Estate agents said they had received interest from around the world.
'Happy community'
About 750 acres of land is expected to be included in the sale of the village, which has more than 40 homes, a pub, a harbour and a shop.
Local people have raised concerns about its future if a new owner did not maintain the policy of not letting out cottages to holidaymakers or allowing second homes.
Tenant Maya Plass said she hoped the National Trust might buy the estate.
She said: "They value that sense of community and society that we've got here."
The National Trust said it was "aware" the estate would have an asking price of about £11.5m.
It said it was "actively discussing what role it could play in helping protect the area from future development" but it would need a "significant fundraising appeal" to buy it.
Tony Goddard, widower of Gill Goddard, the last member of the Evans family to live in Bantham, acknowledged it was "a happy community".
He said he hoped whoever bought it was "a family with personal interest in continuing the tradition that started in the 1920s" of not allowing holiday lets.