Tarka the Otter writer Henry Williamson's hut sold ahead of auction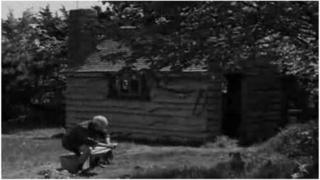 A hut used by Tarka the Otter author Henry Williamson for his writing has been sold ahead of its auction.
The sale price of the hut in Georgeham, Devon, has not been disclosed but it "blew the top end of the price guide [of £110,000] out of the water", auctioneer Colin Thorne said.
Tarka the Otter, published 87 years ago, brought the Devon countryside to life through the eyes of an otter.
Mr Williamson built the hut with prize money for writing the book.
The guide price for the auction, which was to have taken place on 23 May, was between £95,000 and £110,000.
Mr Thorne, an auctioneer for Webbers in Braunton, said : "It was going to be an exciting sale with lots of interest. But the offer that came in was an extraordinary price.
"The buyer wants to make it into a writers' refuge. Mr Williamson's family are completely delighted."
The Henry Williamson Trust, which is administered by direct descendants of Mr Williamson, had maintained the property and conducted visits for fans of the writer for several years.
The trust said earlier this year it had decided "with a heavy heart" that the "onus of maintenance added to the logistics attached to looking after property from afar has become too much".
As part of the sale it was agreed that Henry Williamson fans would still be able to make an annual pilgrimage to the hut, it added.