Labour leader hopes to increase majority on Exeter council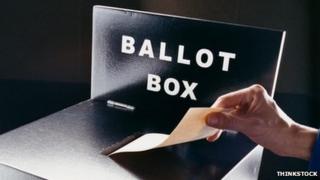 Exeter City Council's Labour Party leader says he is confident his party will retain control of the council and increase its majority.
A third of Exeter City Council seats are being contested - 13 seats in total.
But the current political makeup of the council means it is mathematically impossible for the rival Conservatives (with 11 seats) or Liberal Democrats (five) to gain control of the authority with Labour current holding of 24.
In Plymouth, where Labour holds 32 seats to the Conservatives' 24, the opposition would need to make big gains to oust Labour from power.
Buoyant economy
The Conservatives are Exeter's second biggest party. Even if they hold all three seats they are defending on Thursday, and win all the others they hope to gain, they still would not have enough councillors to win a majority.
Labour leader Peter Edwards said: "I'm very confident that we will retain control and I think we may even have a bigger majority.
"We're now about to develop the bus station, a new leisure centre and all these things have been achieved by the Labour Party - nobody else. Just look at the buoyant economy in Exeter."
Conservative group leader Yolanda Henson agreed things were going well in the city, but said her party wanted more to be done to boost the night-time economy.
She said: "As for the late-night culture, it's important people stay on after work, perhaps bring their families in."
The Liberal Democrats have seen their support drop in recent votes. Some analysts have suggested this may be the effect of the U-turn on tuition fees in the university city.
Leader Adrian Fullam said: "If Labour increase their majority, it would just reduce the capability to properly analyse and scrutinise what they actually do. So it's important for Exeter to maintain a healthy democratic balance."
Massive gains
There have not been any Lib Dems on Plymouth City Council for almost a decade.
At the moment, Labour enjoys a majority of eight councillors over the opposition Conservatives.
Labour gained control in 2012 and the Conservatives would need to make massive gains to oust them from power.
It remains to be seen whether UKIP can achieve its aim of winning its first seat in Plymouth and how many votes it can take from the two parties on the council.
UKIP is fighting for all 19 Plymouth seats up for election on Thursday.
The Lib Dems are fielding four candidates.