Self-harm hospital rise for under-18s in Devon and Cornwall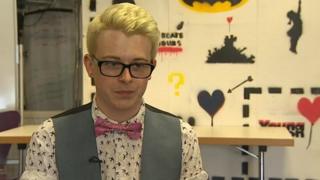 The number of young people admitted to Devon's hospitals after self-harming has increased by 32% in five years, figures have shown.
In 2012-2013, 445 under-18s were taken to hospital across the county.
The Health and Social Care Information Centre revealed 337 were admitted in 2008-2009.
Charity YoungMinds said it was "deeply worrying" and more support was needed. The Department of Health said it was committed to helping those affected.
In Cornwall, the centre said there had been a 15% rise, with 134 young people admitted in 2012-2013 compared with 117 in 2008-2009.
'Feel quite dead'
Scott Goodwin, 21, from Torquay, said he had been self-harming since he was seven.
"I started self-harming as a sense of control," he said.
"You're taking away the emotional pain by creating physical pain.
"At times I feel quite dead and I feel the only way of feeling human is by feeling this physical pain."
Prof Tamsin Ford, from the University of Exeter's Medical School, said: "It's an unhelpful coping mechanism as is drinking too much and smoking.
"Self-harm is more prevalent in the teenage years for girls, and in the early 20s for men."
She added that financial cutbacks had caused "more strain on families and a lot less support for people".
'Remove stigma'
Chris Leaman, policy manager at YoungMinds, said: "Our recent report 'Talking Self-Harm' shows that parents, teachers and doctors are all crying out for more support and training to be able to support children who are self-harming.
"If parents, teachers, and GPs get the support they need to help young people who self-harm and young people develop the skills to combat adversity and deal with the emotional rollercoaster of childhood and the teenage years, the rate of self-harm will start to reduce."
Sharon Copsey, from the NSPCC, said: "In 2012-2013, there was a 41% increase in ChildLine counselling sessions across the UK where self-harm was mentioned.
"We need to remove the stigma around the issue of self-harm and continue to encourage people to talk more openly about the issues."
A Department of Health spokesman said: "We are committed to improving children and young people's mental health and we have invested a total of £54m in programmes and initiatives to ensure children and young people get the right support quickly."
He added the government had invested £3m into an initiative to teach people working with children how to recognise the signs and make sure they get the help they need.