Runaway cow closes Devon A38 dual carriageway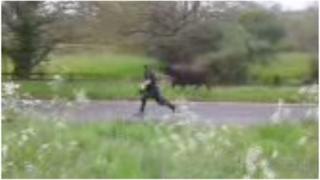 A runaway cow forced the closure of a dual carriageway in Devon.
The A38 was shut for about half an hour at 13:00 BST for seven miles between South Brent and Ivybridge while police tried to capture it.
The cow ran several times up and down the road before it eventually escaped down a grass bank and traffic was restarted.
BBC journalist Chloe Axford said: "The traffic slowed and then a cow ran past, closely followed by a policeman."
She added: "It's fortunate no-one was injured."