Twins Ross and Hugo Turner abandon polar trek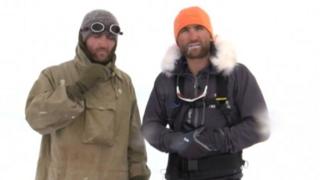 Identical twins from Devon have been airlifted from the Greenland ice cap following a severe Arctic storm.
Ross and Hugo Turner, 25, from Christow, wanted to trek 340 miles to raise cash for spinal research after Hugo broke his neck when he was 17.
But Hugo suffered leg and back injuries in blizzard conditions and a doctor said it was impossible for him to continue.
The twins, who now live in London, said they felt "crushed and dejected".
'Little option'
Hugo said: "We agonised over the decision to cut the expedition short.
"I clearly could not walk so there was no option for me.
"I know the others wanted to go on, but it just was not safe.
"There was little option but to get out.
"I have never been in such an extreme environment.
"Every decision you make is a life-and death-one."
The twins' wish is for 12-year-old Bel Young to be able to walk again.
Bel, from Harrogate, Yorkshire, was eight when she lost ability to move after slipping while playing on a climbing frame.
She now uses a wheelchair, relies on breathing apparatus and is given round-the-clock care by her mother, Vanessa.
Hugo broke his neck in a diving accident on a beach in Cornwall when he was a teenager.
He recovered fully from his injury following surgery and rehabilitation.
The team are now safely back in Kangerlussuaq in western Greenland and are sorting out their cargo transport arrangements and negotiating flights to Copenhagen, then to the UK.