Row over storm damaged sea wall repairs in Ilfracombe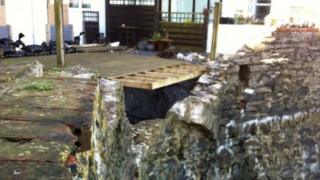 A row has broken out over who is responsible for the repair of a storm-damaged sea wall in Devon.
Parade Terrace in Ilfracombe was damaged during storms on 2 February.
The Environment Agency, the county council and North Devon Council (NDC) have have all declared they do not own the structure.
A spokesperson for NDC said it was "believed to belong to householders" but residents say the situation is "ridiculous" and homes are at risk.
The wall is built on the boundary of foreshore, owned by NDC, and the adjoining private properties. Both parties say the title deeds show the other is responsible for the wall.
Elley Greenwood, who lives locally, said: "It's terrifying because if we get a storm or a north easterly wind it's going to take the flat out."
Geoff King, another resident, said: "Once the gardens have gone the houses will start to go. It won't just be ours it'll be next door's, and it'll be further down."
A spokesperson for the Environment Agency said it "does not own or have any responsibility to repair or maintain the sea wall at Parade Terrace".
In a statement, NDC said: "As householders have already been advised, the wall is not the responsibility of North Devon Council, but is instead believed to belong to the householders, with the structure likely to have been built to protect their properties."
Heather Estall, who owns a property by the wall, said: "It's totally ridiculous. I got fed up with dealing with all the stupid letters saying 'it's not us'. Somebody somewhere has got to take responsibility."
Now Sir Nick Harvey, the Liberal Democrat MP for the area, has promised residents he would take a "close interest and determined to bang heads together of public bodies involved".