Dartmoor Ten Tors challenge: Fifty three drop out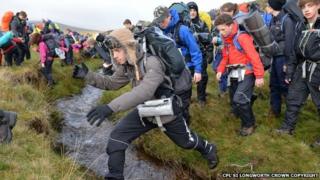 More than 50 youngsters have dropped out of the Ten Tors challenge on Dartmoor with minor injuries.
About 2,400 entrants aged between 14 and 19 are trekking up to 55 miles (89km) across Dartmoor.
They set off on Saturday morning and face a night camping on the moor in winds of more than 50mph.
Organisers said by 16:00 BST 53 had dropped out, with some being airlifted off the moor, but the number was "not unusually high".
The event, in its 54th year, is overseen by the Army in May every year.
'More demanding'
Spokesman Ronnie Jones said those evacuated had the "usual sprains strains".
He said: "The youngsters have been training for this throughout a pretty horrendous winter so they won't be strangers to wind and rain.
"It's called a challenge for a reason, it is arduous going."
All teams of six were being "monitored closely" by an operations room at Okehampton Camp on Dartmoor where the challenge ends on Sunday.
Mr Jones said: "It might be a bit of a howl around their tent poles and its's pretty boggy under foot."
Last year the Army announced changes to the route for 2014, which would mean fewer river crossings to reduce the need for air support in poor weather.
Brig Piers Hankinson, director of Ten Tors, said: "The location of safety control points has moved closer to road heads rather than on top of the tors, while checkpoints remain on the tors.
"I believe these changes will not compromise the original aims of the event - to develop teamwork and practise navigation.
"If anything the challenge will be more demanding, with the experience and appreciation of a high moorland location and the associated weather conditions of a challenging environment."
The entrants will trek for 35, 45 or 55 miles, relying on their navigational skills and carrying all their food, water, bedding, tents and other essentials.
It is run by more than 900 military personnel, almost all of them reservists.
The Army has appealed for visitors at the finish to share cars or take public transport amid treacherous conditions for vehicles on the moor.
In March 2007, 14-year-old Charlotte Shaw died after falling into a swollen river while training for the Ten Tors.
Two months later hundreds of children had to be rescued when the challenge itself was abandoned because of torrential rain.