Hundreds of non-emergency 101 callers hang up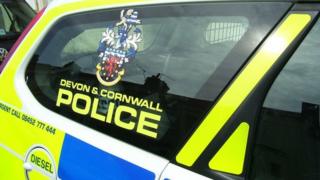 Hundreds of callers a month to Devon and Cornwall Police hang up before their calls are answered, sometimes after long waits.
Figures obtained by the BBC reveal, on average, 250 calls per month to the non-urgent 101 number were abandoned between June 2013 and March 2014.
Data was obtained under the Freedom of Information Act.
Devon and Cornwall Police say a survey last year showed 96% of callers were satisfied with the service.
Cath Andrews, a shopkeeper from Honiton in east Devon, said she tried to call 101 twice to report a prowler.
On the first attempt she gave up after ten minutes while on the second, she waited five minutes, was put through to another department, made to wait several more minutes before disconnecting.
She described the 101 service as "absolutely appalling".
Devon and Cornwall Police said 94% of calls were answered within 30 seconds.
But the force said 101 callers may wait longer if the 999 service is busy because both numbers share call centres in Exeter and Plymouth.
Police and Crime Commissioner Tony Hogg said the service did not always meet expectations but overall satisfaction was high.