Surgeons in Devon trial smart glasses in theatre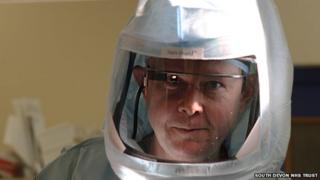 Surgeons in Devon are trialling the use of "smart glasses" in the operating theatre.
The voice-activated glasses, designed by Google, are worn like spectacles but contain a video camera, a tiny display and can connect to the internet.
David Isaac, orthopaedic surgeon at Torbay Hospital, was first in the UK to use the technology in a live operation.
The device allows surgeons to show live procedures to colleagues and students.
Surgical trainee and app inventor, Dr George Brighton, borrowed the device from IT company Entrenext Mobile in November 2013.
"This gives huge potential for mentoring and conferencing," he said.
"If, for example, you were performing a rare or complex procedure, you could seek the advice of experts anywhere across the globe whilst operating.
"The device would also enable consultants to mentor junior surgeons through a procedure, extending their hands-on learning."
Operations are not currently streamed over the internet but the hospital is about to start streaming procedures to medical students within the trust.
Mr Isaac said: "Two of the key issues we have had to address whilst using Google Glass in the operating theatre are patient confidentiality and privacy.
"We take these matters very seriously and have been using the past six months as a trial period to address the issues whilst still aiming to get the very best from the potential that this technology has to offer."