WW2: Survivors' tales of covered up disaster
By Claire Jones
BBC News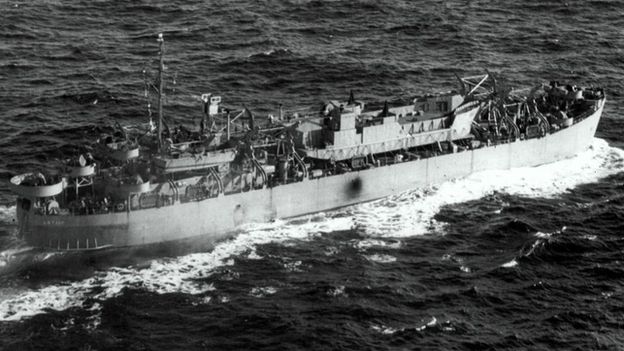 On 28 April, 1944, four German E-Boats opened fire on a convoy of eight US ships that were making their way to Lyme Bay on England's south coast in a practice exercise ahead of the D-Day landings.
The disaster that followed - in which about 800 servicemen lost their lives - was deemed by US top brass to be so grave they ordered a complete information blackout.
Now a British millionaire is planning to restore one of those German E-Boats in honour of those who lost their lives. Here are the accounts of US survivors and the German captain who opened fire on that fateful night.
US sailor Steve Sadlon - Survivor of LST 507
"Burn to death on the ship or freeze to death in the sea" - that was the conundrum Steve Sadlon, a radio operator on board US Landing Ship Tank LST 507 was faced with when a torpedo struck in the middle of the night.
"All hell was breaking loose," he said. "Fire was everywhere, ammunition as well as gas cans were exploding. We had nothing, we were a floating, burning hull of a ship."
After weighing up his options, he decided to take his chances in the sea.
"We had to escape the burning oil. There were hundreds of guys all around us in the water screaming for help. There were dead bodies floating everywhere. We got past the burning water, the dead, and the people yelling for help.
"I floated by this officer who told me to save my breath and stop screaming for help like the rest of them because nobody is going to help us."
Hypothermia kicked in and he woke up on board another landing craft, LST 515. After leaving hospital two weeks later, he was reassigned to LST 500, a ship that was one of the first on Utah Beach on D-Day.
"In comparison to the E-Boat attack, Utah Beach was a walk in the park," he said.
"I found out years later that the captain of LST 515 disobeyed orders, returned to where the ships went down and picked up survivors. If it wasn't for that captain, John Doyle, I wouldn't be here today."
Steve Sadlon has since passed away.
US Officer Ensign Douglas Harlander - Survivor of LST 531
Just 15 minutes after the assault on LST 507 an attack began on another landing craft - LST 531.
As the craft received its second and fatal blow, it began turning over to its starboard side. It would only stay afloat for another six minutes.
A surviving officer on board, Ensign Douglas Harlander, now 94, had little time to decide what to do.
"We were dead in the water," he said. "We were completely loaded with trucks, vehicles, tanks, and all of them were loaded with fuel to the hilt and it was an immediate mass of fire.
"I realised saving the ship was futile so I turned my attention to trying to save the men.
"The ship was sinking and fast turning over and I was the last man over the port side.
"As I was walking on the outside of the ship's hull, it sank beneath me. I dove off and got away as fast as I could to avoid being dragged under by the suction of the ship's descent."
But as the night progressed, many of his comrades disappeared below the waves.
"They slipped away as they became unconscious. At about 6am you even wished you could be picked up by the Germans because the men were falling off like flies," he said.
The survivors were rescued at about 07:00 by the British ship HMS Onslow.
The exercise that killed so many American servicemen was considered by US top brass to be such a disaster that it was immediately covered up.
Any survivor who revealed the truth would face a court martial, they warned.
"In the coming weeks I came to realize that the ordeal I survived was not to be officially acknowledged by the Navy or the United States or British governments," said Mr Harlander.
"The report was classified to prevent damaging the morale of the D-Day soldiers who had to travel through those same waters to reach their destination on 6 June, 1944.
"The sad part of the whole thing is that the surviving family members didn't know for so many years what had happened to those missing.
"They were told only that they were missing in action or killed in action. I estimate that at least two-thirds of those on board never made it off the ship and today their remains rest at the bottom of the English Channel."
Mr Harlander was the sole surviving officer of LST 531. Following Exercise Tiger, he became a dentist and still lives in Frederic, Wisconsin.
Kapitan zur Zee Gunther Rabe - the German captain
Forty years after the attack, in a letter dated 19 December 1983, the German commander of E-Boat S-130 gave his account of what happened to US Navy Doctor Eugene Eckstam.
Kapitan Gunther Rabe said the "chance discovery" of the US training mission came during a routine journey from his base in Cherbourg, France, to the Lyme Bay area.
"We knew that during April 1944 there was constant traffic on the route off the south coast of Great Britain as we met with increasing resistance from a rapidly growing number of gun-boats, launches and other escorts," he wrote.
"After a while, we happened to get visual contact with a convoy of LSTs, lined up in a rather long line and from our position we did not see any escorts.
"The shadows were clearly to be seen in a south-easterly direction. We approached in good distance at comparatively high speed in order to come in a favourable position for torpedo attack.
"My boat fired two torpedoes at about 2.05am. As there were many more ships in the area we could not attempt to close in to look for survivors.
"For a man who went through the longer part of his life in the meantime, today these events look very much different.
"I think we, in our generation, have to do everything possible to prevent that governments repeat the same mistakes again."
The ship that claimed the American lives is currently to be found in a shed in a Cornish seaside village.
Entrepreneur Kevin Wheatcroft bought the craft - the last surviving German schnellboot S-130 - for £1 in 2009 and plans to restore it back to its 1943 configuration and performance.
He said the boat's restoration was "an acknowledgement of its sinister past and an apology for what it did".
"The first mission, under my control, will be back to Lyme Bay and we will torpedo the same number of poppies out of the boat as the amount of people who died there," he said.
Kevin Wheatcroft runs the Donington Park race circuit in Leicestershire
The Wheatcroft Collection includes 150 items in various stages of restoration, including military vehicles and tanks, steam engines, vintage tractors and Harley Davidson/Indian motorcycles
In the 2013 Sunday Times motoring rich list he was reported to have a wealth of £110m
The S-130 boat had a range of up to 700 miles and a crew of 35 and was used as a fast-attack craft for mine-laying.
After the war, the vessel was returned to the German navy and used to train sailors in underwater weaponry before being decommissioned in 1991.
It later served as a houseboat before being brought to Britain where it fell into disrepair.
Mr Wheatcroft said he believed it would cost £5m to restore the boat and he expected the project to take up to five years.
In order to restore the ship, Mr Wheatcroft acquired the salvage rights on three sunken schnellboots off the Danish coast to use for parts.
Once it is finished, the vessel will become a floating museum and visitor attraction.
He said he would like to one day see the boat on the River Thames as a constant reminder of the bloodshed of World War Two.
"It's an icon of the sea, a killing machine of an era no-one will ever forget. I never lose sight I'm dealing with a killing machine.
"I've had 90-year-old veterans crying, touching and patting the boat - it's one of the most emotional things I've ever seen.
"The last time they saw it they were fighting for their life, it's what was responsible for their friends' deaths.
"If this thing could talk it could tell a million stories."
Laurie Bolton - Host of Exercise Tiger reunion tours
Since 2003, there have been a number of reunions of Exercise Tiger veterans arranged by the niece of Sgt Louis Archer Bolton, who was killed on board one of the landing craft.
She said she knew very little about his death until she watched a documentary about World War Two and began looking into the background to the disaster.
"I contacted one of the veterans who survived on board LST 531 and he told me what happened on that night," said Ms Bolton, from Kingsburg, California.
She discovered her uncle was in the tank deck on board that craft when it took a direct hit by two torpedoes. His body was never recovered.
"In 2003, I began hosting reunions, brought over some veterans and family members for the 60th Anniversary in 2004, the 65th anniversary in 2009, and a final journey with veterans for the 70th anniversary year," she said.
"It has been very rewarding to meet these men and their families and has helped with the feelings of loss in losing an uncle I never knew."
One of the most emotional aspects of each reunion has been visits to the hulk of the S-130 kept by Mr Wheatcroft.
John Casner, 88, from Summerville, South Carolina, returned to Slapton Sands, the beach of Lyme Bay, and the E-Boat restoration site in 2013.
"I was glad to come back to Slapton Sands to pay tribute at the tank memorial and participate in the commemoration," he said.
"That was when I became emotional. I was very surprised at how big the the E-Boat was, it seems like I should have seen it at the time of the attack."
Nathan Resnick, now aged 90, was onboard LST 511 during the attack.
He had not told his wife about the exercise for 50 years because it was "such a painful memory" but visited Slapton Sands and the E-Boat in 2009.
"The E-Boat was an eye-opener because I never thought of it as so big and powerful," he said.
"It was a mammoth, lethal weapon. I think it's good the German E-Boat is being restored because it will be a valuable piece of history for future generations."
Related Internet Links
The BBC is not responsible for the content of external sites.