Savings plans may threaten Devon children's centres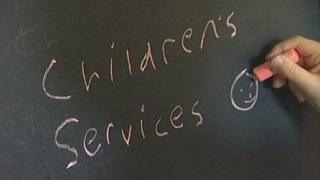 Some children's centres may be closed in Devon as the county council looks to save £1.2m from its budget over the next three years.
There are a total of 43 centres, with 34 of those housed in council-owned buildings, where families with children aged up to five can go for a range of help.
The services range from play groups to job training courses for adults.
The authority said it would not close centres in deprived areas.
The Conservative-led council has to save a total of £110m by 2017 because of government funding cuts.
Children's centres are the latest service to be under threat, looking at funding cuts of about 15%. This is on top of the £1.5m that has been cut from them over the past five years.
The council said it would keep buildings in the most deprived areas where there was greatest need.
But this has left people in more affluent places, such as Ottery St Mary in East Devon, feeling their service could be under threat.
Andy Reed, whose second son Alfred is just a few days old, said his family had a "real concern" many of Ottery's council-run services would disappear by the time some children were old enough to use them.
He said: "To have a place where you can have have a bit of adult contact after you enter this whole new world [of parenting] and allow children to socialise in safe place is really invaluable."
The county council said it currently had 43 separate contracts for children's centre services which it was "seeking to streamline to eight contracts".
It said: "At the same time, we want the bidders to tell us how they could provide a more comprehensive service, especially to vulnerable families in rural locations who can't get to the centres at the moment."
The authority added nothing had been decided and it was carrying out a "genuine consultation and we want to hear what people have to say before any changes are made".