Soldier killed in Dartmoor vehicle accident was father-to-be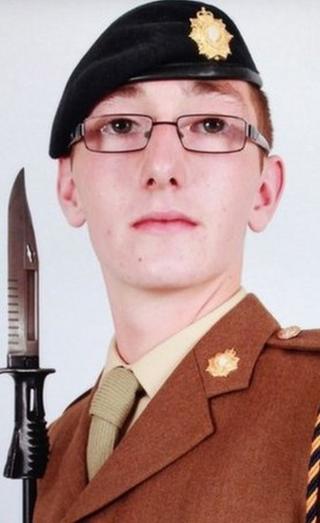 A soldier killed after being pinned against a vehicle by a trailer on Dartmoor was a father-to-be, it has emerged.
Pte Cameron Laing, 20, from Nottingham, suffered a head injury as a military convoy headed to Okehampton on Tuesday and died later.
His family and partner called him an "amazing son, brother, boyfriend and expectant father".
Police investigations into the incident continue.
'Sorely missed'
His family and partner said in the statement: "He was a loveable rogue, always playing practical jokes and the fun in any situation.
"He couldn't wait to be a father to his son, baby Cameron. He will be sorely missed by everyone whose life he touched."
Pte Laing was from 7 Theatre Logistic Regiment, Royal Logistic Corp, based at Cottesmore, Rutland.
The Health and Safety Executive has been informed and the Ministry of Defence is also investigating.