£1.8m North Devon District Hospital investment for nurses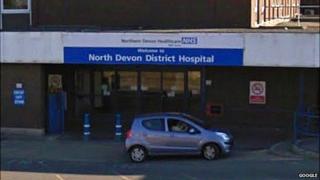 A Devon hospital is set to invest £1.8m to employ more than 55 nurses and healthcare assistants.
The North Devon District Hospital (NDDH) will now have one registered nurse for every six patients during the day, it is claimed.
At night, this will drop to one registered nurse for every 10 patients.
But a Royal College of Nursing spokesperson said the trust would face "difficulty" in recruiting the posts.
The hospital said the trust would recruit 30 full-time equivalent registered nurses and more than 25 full-time equivalent healthcare assistants.
The Trust has already recruited qualified nurses and healthcare assistants to two wards at NDDH.
Nurses 'demoralised'
Darryn Allcorn, of the NDDH, said recruiting sufficient qualified nurses was a "challenge for all Trusts" but they were working with a number of organisations, including Plymouth University, to support those who were considering returning to the profession.
"We also attend recruitment events across the country and are looking to work with an international recruitment agency, following the success of our overseas recruitment programme last year," he said.
Helen Hancox of the Royal College of Nursing said: "I am concerned however, that the trust will face difficulty recruiting into these new nursing posts.
"Nurses and healthcare workers have become increasingly demoralised by attacks from the government on their pay terms and conditions and many are choosing to leave nursing.
"With inadequate nurse student places commissioned in previous years to bridge this gap we are now facing a significant problem, not just in the South West but across the country."