Premier Inn hotel work begins on Exmouth's Elizabeth Hall site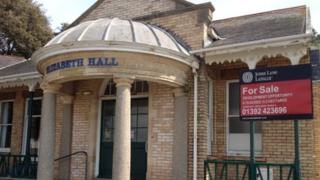 Work to build a seaside hotel in Devon has begun despite a previous protest.
The site of the Elizabeth Hall, in Exmouth, was sold to Premier Inn for £1.24m.
Last year, a decision by the council to sell the hall prompted a protest march and a 12,000-signature petition.
Premier Inn expects to open the 60-bedroom hotel in spring 2015 and said 25 jobs would be created. In June, the company said its building would be "fitting of its location".
The money made from the sale of the hall is being spent on the Queen's Drive leisure project and repairing a slipway in the town.