Torbay doctor Suhail Ahmed struck off over secret photos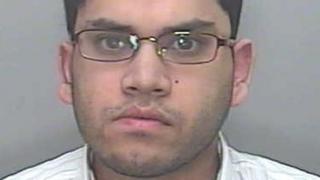 A junior doctor who secretly photographed and sexually assaulted female patients will be struck off.
Suhail Ahmed, 28, used a hidden camera to take over 100 images in examinations at Torbay Hospital, in Devon.
Ahmed, of Cyncoed Road, Cardiff, was jailed for 18 months in October for voyeurism and sexual assault. The term was later increased to 30 months.
The Medical Practitioners Tribunal Service (MPTS) ruled Ahmed should be banned from practising as a doctor.
Secret bathroom camera
Exeter Crown Court heard in October that Ahmed used a hidden mobile phone camera.
He claimed his mobile phone was being used to time their heart rate. He pleaded guilty to 11 counts of voyeurism and two counts of sexual assault by touching.
In January, the Court of Appeal increased his sentence to 30 months.
'Abuse of power'
The trainee surgeon was suspended by the General Medical Council in July 2013.
The MPTS said that a panel had confirmed his suspension.
Ahmed will be struck off the medical register in 28 days, subject to appeal.
A South Devon Healthcare NHS Foundation Trust spokesman said: "This gives a very clear message that such abhorrent abuse of power has no place in our healthcare community and brings an end to a shocking and distressing episode for all those involved.
"Compassion, care and safety are core values for our staff and the actions of this rogue individual have appalled us all."