Tom Daley's mother Debbie runs Plymouth Half Marathon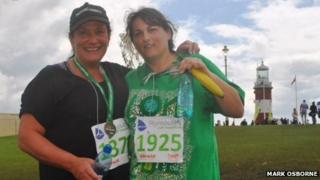 Tom Daley's mother was among thousands of runners who took part in Plymouth's Half Marathon.
Debbie Daley was running to raise money for The Brain Tumour Charity. She has previously run in the London Marathon.
Her husband Rob died in May 2011, at the age of 40, with brain cancer.
Mrs Daley said Tom, a London 2012 Olympics bronze medallist, could not attend the event because of a diving competition, but had been "very supportive".
She completed the half marathon in just over three hours and said she was "absolutely shattered".
"Every corner, every street, people were cheering you on," she said.
'Fighting ferrets'
"When I ran the London Marathon in 2012, with a team of 25 people, we raised over £40,000.
"The Brain Tumour Charity was very grateful for that amount of money," Mrs Daley said.
Before the event, she said the Plymouth Half Marathon was a "very hard route with lots of hills, unlike the London one which is quite flat".
"I wouldn't say I was fit, I've just built myself up over the past few months.
"I've been training with a group of women and we call ourselves the 'fighting ferrets' to make it fun," she said.
Several roads across the city were closed for the event between 09:00 and 13:00 BST.
Runners started the race on Plymouth Hoe and passed the Barbican, crossed Laira Bridge and ran through Saltram Park.