Totnes one-way traffic system to remain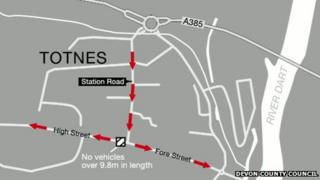 Controversial traffic changes in Totnes will be made permanent.
Devon County Council temporarily changed much of the town centre to one-way a year ago with the aim of making it safer for pedestrians.
There was a protest march on Tuesday by locals and some traders who claimed the changes had driven shoppers away and not made it safer.
The council said it had been monitoring the situation and voted to keep the new system.
It also agreed to review the effect of the traffic changes in 2016.
'More welcoming'
Annie Bowie, who owns an art gallery in the town, said: "On at least three days of the week the town is completely dead.
"I no longer employ someone full time."
Totnes town councillor Tony Whitty said: "It's a better environment, it has reduced traffic, it's safer for people and it's more welcoming for people.
"I think it will be a real boon to the town and the traders will get more visitors."