More Devon parents fined on pupil absences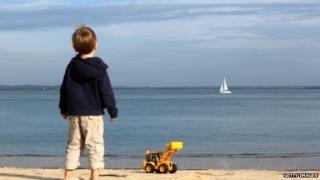 Fines against Devon parents for taking their children out of council schools during term times have risen sharply.
A total of 335 fines have been issued since last September, compared with 248 for the whole of 2011-12, said Devon County Council, responding to a Freedom of Information request.
Last September, the government introduced tougher regulations on term-time absence for holidays.
The council said the rise was an "inevitable result".
Commitment to education
Since 1 September 2013, head teachers in England have no longer been able to grant any absence in term time except under "exceptional circumstances" such as illness or exclusions.
They were previously able to grant up to 10 days of leave a year for family holidays in "special circumstances".
Fines increased to a maximum of £120 per child, or £60 per parent per child.
Mother Debbie Rodway, 53, was fined £120 with her husband Rob in February for taking their daughter Katie out of school for eight days for a holiday in Thailand.
Ms Rodway, who runs a tea room in Tiverton, Devon, said: "We are busy in the summer, so we have to take our holidays at a quieter time of year.
"I think we should be treated as exceptional circumstances because there are a lot of people like us."
Councillor James McInnes, Devon cabinet member for schools, education and skills, said: "We would hope that parents demonstrate their commitment to their child's education by not taking them out of school."
The cost of a holiday is often lower during term time, with companies responding to higher demand by putting up prices during school breaks.
Kevin Courtney, deputy general secretary of the National Union of Teachers (NUT), which is against fining parents, said the union was "well aware of the cost of holidays but for children to be taught, they need to be in school during term time".