Devon mental health group waiting list 'a challenge'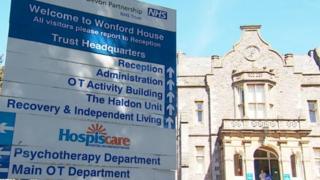 A long waiting list for psychological therapy is one of a dozen "significant challenges" facing the Devon Partnership NHS Trust.
That is according to the most detailed inspection made to date of Devon's mental health services by the Care Quality Commission (CQC).
Inspectors also praised the compassion and commitment of staff.
Chief executive of Devon Partnership NHS Trust, Melanie Walker, said the findings were encouraging.
She said: "The CQC observed consistently high levels of compassion, commitment and good, safe care among our frontline staff and we are very proud of this.
"As we would expect, the CQC also identified areas where improvements need to be made - and we are developing a comprehensive action plan to address these."
The Care Quality Commission sent 37 people over four days to conduct the inspection of six hospitals and more than 100 community services.
Dr Paul Lelliott, CQC's deputy chief inspector of hospitals, said there was a strong culture of learning from incidents.
He said: "Staff providing cover out of hours are not always able to respond effectively to mental health crises affecting people living in the community.
"Most of the patients and carers we met described staff as caring and compassionate but, while Devon Partnership NHS Trust provided effective services in many areas, the availability of the service can all depend on where you live."
It may be years before all the improvements can be made, but inspectors say they will be monitoring progress to give mental health patients get treatment where and when they need it.