Morrisons takes West Devon council to court over Tesco plan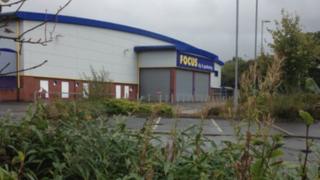 Supermarket giant Morrisons is taking a council to court over its decision to grant planning rights to rival Tesco.
Along with Councillor Robert Oxborough, the firm is bidding for a judicial review of West Devon Borough Council's decision for the Tavistock store.
Both argue it was unlawful after a row blew up over a retail study that indicates other firms in the town are struggling.
The council said it was not aware of the court action.
'Solid grounds'
At the planning meeting in January, Mr Oxborough said he was told by council staff there was no provision for him to speak about the study and he later complained.
The Conservative councillor for Tavistock South said he wanted to talk about preliminary findings of a study that showed independent shops were making a loss or just breaking even.
Both Mr Oxborough and Morrisons believe the findings would have influenced the vote.
However, the council investigated Mr Oxborough's complaint and found the planning officer's report highlighted similar concerns about town centre traders and the study did not offer any new information.
He believes the only way the council will look at the application again is through a judicial review with Morrisons, which has a store nearby.
A spokesperson for the supermarket said: "We believe that there are solid grounds to initiate a judicial review of the council's decision and are taking appropriate steps."
The council said: "So far, we have had no formal notification regarding the lodging of a judicial review application.
"If we do receive a notification the council will deal with it accordingly".
Last year, a catalogue of errors led to the council spending £50,000 on court action against its own planning decision for the site, a former Focus DIY store.
Tesco is yet to comment.