Devon County Council criticised on girls' sex abuse case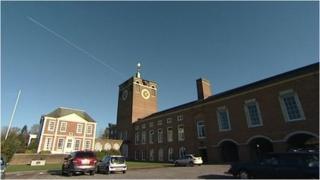 A paedophile was able to continue his abuse because social workers failed to remove his two victims, a report said.
A serious case review found there were severe flaws in management at Devon County Council and oversight in the authority's social services department.
The girls were assaulted over a five-year period by their attacker, a known sex offender who can not be named for legal reasons and was jailed last year.
A council source said it was "very sorry" and lessons had been learned.
The victims were to a series of attacks, including rape and sexual assault.
Rated inadequate
The report says the abuse might have been prevented if mistakes had not been made in handling the case, senior council sources have told BBC News.
One source said the council was "very sorry" for its errors, adding the case had been thoroughly investigated and lessons learned.
In May 2013, the council's child protection services were rated inadequate by the regulator Ofsted.
In response, the authority set up an independent panel to oversee an improvement in services.