Hotel and shops plans submitted for Torquay Pavilion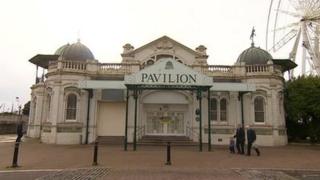 Plans to turn Torquay Pavilion into a 60-bedroom hotel with shops, restaurants and 45 apartments have been submitted to Torbay Council.
The application has been made by the Nicholas James Group.
The council said a full consultation with residents and businesses would be conducted after the plans had been assessed by its development committee.
The building - which opened in 1912 as a concert hall, theatre and cinema - is currently a shopping arcade.
English Heritage would also be "heavily involved" in discussions about the Grade II-listed building, the council said.