Storm-damaged Teignmouth pier to reopen in July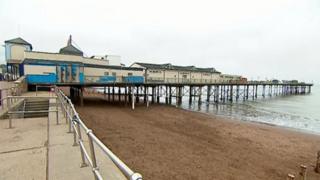 A Devon pier which was badly damaged in the recent storms will reopen in July, its owners say.
Holes were punched through the wooden floors of Teignmouth Pier and machinery and arcade amusements were badly damaged when waves hit south-west England at the beginning of the year.
The cost of the damage is estimated at hundreds of thousands of pounds.
Owner Nik Brenner said the damage was "heartbreaking" but work was fully under way to restore the attraction.
Mr Brenner said the pier, was which originally opened in the 1860s, had been "hit very hard by enormous waves".
He said: "An awful lot of new equipment is to be installed and it's been a long process with the insurers, but we're going to make sure it's a proper job.
"We'd have loved to have done it sooner. With the kids off, we'd have been really busy."