Epic Lynmouth RNLI ship rescue turned into film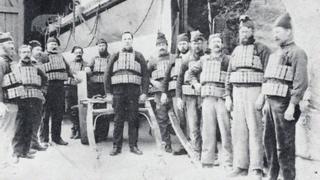 An epic rescue in which a Royal National Lifeboat Institution (RNLI) crew hauled their 10-tonne boat 13 miles has been turned into an film.
The crew of the Louisa, helped by about 100 local people and 20 horses, set off from Lynmouth in Devon to launch the boat 13 miles away in Porlock.
Before them was 1,423ft (443m) Countisbury Hill and a one in four gradient hill.
The film about the rescue gets its public premiere on Friday.
The crew of the Louisa were alerted to the plight of the schooner Forrest Hall on 12 January 1899.
The Forrest Hall was in trouble after a rope broke as it was being towed by tug from Bristol to Liverpool.
'Incredibly powerful story'
Unable to launch at Lynmouth because of the storm, the crew rounded up helpers to take the boat to Porlock, a journey which took them until 06:00 the next day.
After launching, the crew held the Forrest Hall away from the rocks until the tug returned with a new rope.
The crew's rescue is commemorated in a plaque in Lynmouth and was marked on its centenary in 1999 with a re-enactment.
Former London-based animator Ken Blakey, who made the 20-minute film The Journey of the Louisa, said: "When I was 10, I watched the story in Jackanory and was fascinated by it.
"After we moved to Lynton in 2008 it clicked that the story was where I lived. It's an incredibly powerful story.
"The amazing thing is these were just local people who did unbelievable things."
The film, which cost a "couple of hundred pounds" to make is being shown at Lynmouth Pavilion on the 160th birthday of Jack Crocombe, coxswain of the Louisa.
Descendants of the crew have been invited as special guests including the great-granddaughter of Mr Crocombe.