Exeter University scientists in superbug treatment hope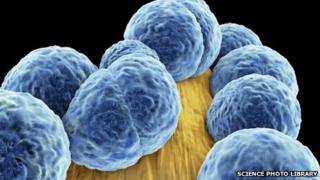 Scientists at Exeter University say they have come up with a new way of predicting the severity of infection from the super bug MRSA.
They say it could be vital in determining the most effective course of treatment.
And they are trying to use the same techniques to target other bacteria related illnesses.
MRSA is a potentially lethal bacterium that has developed a resistance to certain antibiotics.
It usually strikes in hospitals, where conditions suit it.
Severe disease
Scientists used genome sequencing to identify the toxicity of infections.
Genome sequencing allows scientists to scan and map the relevant section of an organism's DNA, which contains millions of sections of genetic code.
Dr Mario Recker said: "We know that bacterial pathogens, such as MRSA, are so virulent in part because of their ability to damage a host's tissue.
"By using whole genome sequences we have been able to predict which would be most toxic, and so therefore would be more likely to cause severe disease."