Bar-headed geese tests could help heart and stroke victims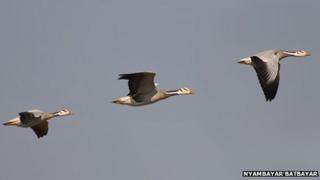 A study of the world's highest-flying bird by Devon scientists may help improve treatment for heart attack and stroke victims.
As part of the research, bar-headed geese ran at speed on a treadmill inside a box.
The geese can breathe air consisting of just 7% oxygen, scientists at Exeter University found.
Tests with barnacle geese showed they did not have the same ability to cope.
'Astonishing tolerance'
Bar-headed geese are able to cross the Himalayan mountain range on their migratory flights between India and China, reaching heights of almost 24,000ft (7,315m).
Scientists at Exeter University said most people exposed to such conditions would quickly pass out.
Dr Lucy Hawkes, the lead researcher from the University of Exeter, said: "It all seems to come down to how much oxygen bar-headed geese can supply to their heart muscles.
"The more they can supply, the faster they can beat their hearts and keep the supply of oxygen to the rest of the body going.
"This suggests that other species, including humans, are limited more by what our hearts can do than by how fit the rest of our muscles are at altitude."
The team discovered the geese had an "astonishing tolerance" of low oxygen conditions, both at rest and when exercising for 15 minutes at top speed.
The full findings are reported in the latest edition of the online journal Public Library of Science ONE.