Plymouth council vehicle cameras 'reducing insurance claims'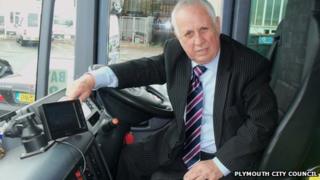 Waste collection lorries in Plymouth are having cameras fitted to them to stop false insurance claims against the council.
Four-way cameras have been fitted to the waste collection vehicles.
Claims have dropped by about a third during a two-year trial, Plymouth City Council said.
The cameras would also be used "to work out if the vehicles are using the most efficient routes", a spokesman said.
The year before the trial cameras were installed, there were 96 insurance claims against the council.
In 2012 to 2013, during the trial, this dropped to 72. This financial year the trend continues downward with 65 claims.
The council said the installation of the cameras was part of an ongoing programme to improve its waste and recycling service.
Councillor Brian Vincent, cabinet member for the environment, said: "We have a number of changes on the cards for our city's waste and recycling collections, with collection days being changed for some residents as part of this."
The camera system would also help the staff look at the existing routes as part of the council's programme of improvement work to make sure the workloads and rounds were even, Mr Vincent said.