Exeter could get new out-of-town shopping centre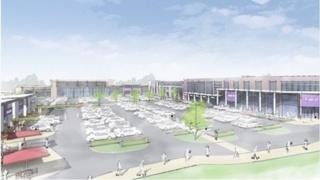 Plans for a new shopping centre on the outskirts of Exeter have been unveiled.
Developer Consolidated Property Group (CPG) says the site, to be known as Moor Exchange, in Honiton Road, will create up to 400 jobs.
The first shops could open in 2016 if planning permission is granted by the city council.
CPG said the site, aimed at local top-up and lunchtime shopping, would "complement" shops in the city centre "and will not detract from them".
The site is opposite the Met Office building in Fitzroy Road and near the Exeter Business Park and the Science Park.
Derek Phillip from Exeter Chamber of Commerce, said: "We have some concerns about its effect on the city centre so we need some more detail.
"That area needs something for the people who work there to go to at lunchtimes, but whether it it should be at the level being suggested is open for debate."