Tarka the Otter writer Henry Williamson's hut for sale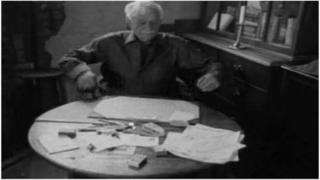 A hut used by Tarka the Otter author Henry Williamson for his writing is to be sold at auction.
The hut in Georgeham, Devon, is being sold by the Henry Williamson Trust, complete with his writing desk, spectacles and blotter.
Tarka the Otter, published 87 years ago, brought the Devon countryside to life through the eyes of an otter.
The hut was built by Williamson in 1929, purchased with prize money for writing Tarka the Otter.
'Heavy heart'
His writing refuge comes complete with his great coat behind the door waiting to be donned for the next walk through his beloved north Devon countryside.
Today, a number of Devon attractions have the Tarka name, including the Tarka Trail for walkers and cyclists.
The Henry Williamson Trust, which is administered by direct descendants of Williamson, have maintained the property and conducted visits for fans of the writer.
The trust said it had decided, "with a heavy heart", that the "onus of maintenance added to the logistics attached to looking after property from afar has become too much".
The trust would like if possible for the writing hut to be preserved and remain as a visitor destination for those keen on preserving the memory and legacy of the writer.
Colin Thorne, of auctioneers Webbers which is selling the hut on 23 May, said: "It is almost impossible to value such a rare entity as this.
"The passionate Henry Williamson fan will see one value, whilst a buyer who simply wants to own their own piece of North Devon rural idyll will see another."