Devon domestic abuse help changes come into force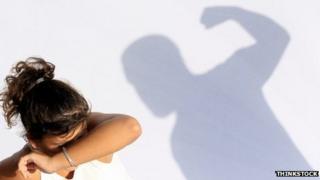 Changes to the way victims of domestic abuse get help across much of Devon have come into force.
Refuges in Barnstaple and Exeter that offered a safe haven for women at risk are no longer funded by Devon County Council.
Exeter's refuge has closed, Barnstaple is running on cash reserves.
The authority said secure, safe accommodation was still available for those who needed it, just not always in specialist refuges.
Jane, from Devon, who was in an abusive relationship and used a refuge, said the council changes were "frightening".
She said: "They should speak to the women in there and have been through it.
"Unless you've been in the situation, you don't know how much support they give you."
A protest was held on Exeter's Cathedral Green at the weekend against the closure of the city's women's refuge before it shut its doors on Monday.
Sue Wallis, from North Devon Against Domestic Abuse, said Barnstaple women's refuge was remaining open.
She said: "We are a local charity and we're going to be looking for alternative and sustainable funding for the refuge.
"But we're currently running on reserves and can last for about a year."
Conservative-led Devon County Council said changes were down to the signing of new contracts, not because of cuts in council spending and that general accommodation would be offered to those who needed it.