Convicted marine Al Blackman's wife speaks of appeal hopes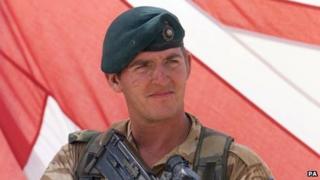 The wife of a Royal Marine jailed for life for murdering an injured Afghan fighter has spoken of her hope that the conviction will be overturned.
Claire Blackman, 42, said her husband Sgt Al Blackman, 39, "bitterly regrets" the incident in 2011.
Blackman, of Plymouth-based 42 Commando, was jailed for life for murdering the insurgent.
Lord Chief Justice Lord Thomas and two other senior judges are to hear an appeal against conviction and sentence.
'International politics'
Mrs Blackman, of Taunton, Somerset, told the Radio Times magazine: "I still hope - because I have to - that his conviction will be overturned. I recognise that it would be a very difficult decision to make.
"There's a lot of international politics tied up with this case and I understand that. But for me, this is about one man and his life.
"If it doesn't happen this time, it doesn't mean it won't happen. But for the sentence to be reviewed and reduced is a real hope, a tangible hope.
"Al is no risk to society. There's more of a risk to him and his safety. He doesn't belong in prison."
Marketing executive Mrs Blackman was interviewed for a BBC One documentary by filmmaker Chris Terrill.
'Heart-stop moment'
Mrs Blackman told the programme that her husband had spared her the details of the events in Helmand province.
"When he was charged with murder, it was a heart-stop moment," she said.
Blackman, who had been five months into a six-month tour, shot the Afghan, who had been seriously injured in an attack by an Apache helicopter, in the chest at close range with a 9mm pistol, a court martial was told.
He was then heard to say to comrades: "Obviously this doesn't go anywhere, fellas. I just broke the Geneva Convention."
His junior colleagues, Corporal Christopher Watson and Marine Jack Hammond, were cleared.
Blackman was jailed for life and told he would have to serve at least 10 years.
He was also "dismissed with disgrace" from the Royal Marines, for which he had served with distinction for 15 years.
Marine 'A': Criminal Or Casualty Of War? will air on BBC One on Wednesday 9 April at 10:35 BST.