Protest in Exeter over women's refuge closure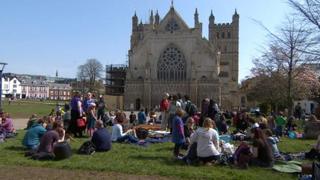 A protest has been held in Exeter against the closure of the city's women's refuge.
The facility has helped thousands of victims of domestic abuse for more than two decades.
It closes its doors on Monday because of changes in the way the service is provided.
Campaigner Nicci Wonnacott said: "Today's event is all about a show of support for women and children across the city."
One hundred and fifty people staged a the Mother's Day show of support for women at risk.
Men, women and children of all ages had a giant picnic on Exeter's Cathedral Green.
The refuge has provided safe accommodation and specialist support, but in future victims of abuse in the city will get general accommodation.
Ms Wonnacott said: "It's vital that there is a refuge for this city, for every city in fact.
"We want to see a new refuge open for some of the most vulnerable people in our county."
The refuge has been run by the charity Stop Abuse For Everyone, or SAFE.
It is closing because it failed to win a new contract for domestic violence services with Devon County Council.
Devon County Council said the closure had come about because of a change in contract, not because of cuts in council spending.
The authority said the new provider, Splitz, will work with agencies to find safe accommodation and the council itself "remains committed to providing high quality services to protect individuals and families".
Chris Collier, from SAFE said: "When we celebrated ten years of being in our present refuge building we celebrated knowing that maybe a thousand women and 1,200 children had gone through it.
"That will give you some idea of the demand for this service."