Tobias Ruth has sentence cut over mix-up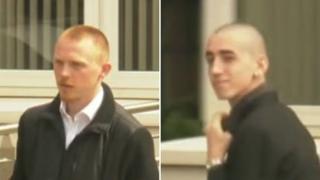 A man who spread religious and sexual hatred material and damaged a mosque has had his sentence cut.
Tobias Ruth, 20, was jailed for 33 months at Exeter Crown Court in September.
His jail term was cut to 19 months after judges discovered a mix-up in the way he was sentenced.
Ruth was jailed for an offence of carrying a knuckleduster outside a nightclub - a crime he had not formally pleaded guilty to.
It also meant a further four-month sentence for breaching a conditional discharge had to be quashed, Lord Justice McCombe told the Court of Appeal.
Police station targeted
In September, Ruth, of Morgan Avenue, Torquay, worked alongside John Roddy, who got a suspended sentence for writing threatening messages, damaging a mosque and possessing documents containing information useful to terrorism.
The pair carried out 72 acts of graffiti across Torbay on targets which included Brixham police station.
The most serious attack was on the Torquay Islamic Centre where the pair followed up racist graffiti with a threatening letter, Exeter Crown Court previously heard.
Both men were arrested after a number of properties around Lymington Road, Torquay, had to be evacuated when "suspect items" were reported to police in January 2013.
While on bail Ruth was arrested outside a nightclub in Torquay and found to be in possession of a knuckleduster.
Prosecutors said that put him in breach of a conditional discharge which had been imposed for burgling a restaurant in March 2012.
In September 2013, Ruth indicated at South and West Devon Magistrates' Court he would plead guilty to possessing the knuckleduster.
Lord Justice McCombe said magistrates had sent the matter to the crown court for trial, but he was then sentenced without formally entering a guilty plea or even being indicted.
He said: "In the circumstances, it seems to us that he was not convicted of the knuckleduster offence and the sentence passed must be quashed.
"It follows that there was no conviction for an offence committed during the period of the conditional discharge and the sentence passed in that respect must also be quashed."