Derriford hospital staff parking fee doubles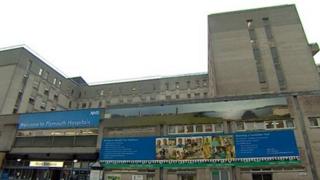 Staff at Plymouth's Derriford Hospital are to have their daily parking charges more than doubled.
Workers handed a petition containing more than 1,300 signatures to the Plymouth Hospitals NHS trust, opposing the plans increase parking charges.
The hospital said the parking price had remained unchanged since 2009 but the current price was "not sustainable".
The price increase would see daily staff parking charges rise from £1.20 to £2.50 per day.
Changes to public parking have also been agreed.
Although short-term parking of up to one hour has reduced from £2.20 to £1.20, charges for over six hours will increase from £8.00 to £12.00 from 1 April.
'No alternatives'
Derriford Staffside, made up of unions members including Unison and the GMB, had suggested a compromise of a phased increase over a period of three years.
Suzy Franklin from Unison, said alternatives to parking, like using a bus, were "impossible" because many staff worked night shifts and services were being cut.
A spokesman for the hospital said: "The original agreement between the trust and staff side representatives was fixed for five years so it was due for review in February 2014, with the new charges introduced from April 2014."
Nick Thomas, the director of planning and site services, said: "Over the past five years costs have increased, but the income received from staff has not and this has meant staff parking has had to be subsidised. This is clearly not sustainable."
The hospital said assistance would be given to those staff earning the least amount of money.