Dartmoor pony contraceptive scheme at risk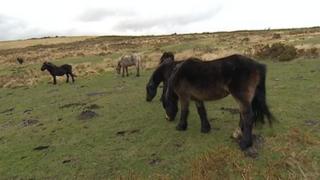 The first UK trial to use contraception on wild hill ponies is at risk of failing, a charity says.
The Dartmoor Hill Pony Association is trying to reduce the slaughter of hundreds of foals each year because there is no market for them.
Two years ago a small number of mares were injected with contraceptives and now the charity wants to extend the trial to 100 animals.
However, it has been unable to find enough land for a new trial.
The pony charity said the first trial proved successful but it needed to carry out further tests, in a controlled area, to ensure the contraception would be effective across the moor.
'The last straw'
The contraceptive drug was donated by pharmaceuticals company, Pfizer, and imported from Australia.
The trial has the support of the Dartmoor National Park Authority, which described the ponies as "a national park emblem".
But Charlotte Faulkner, from the association, said if it was not able to get the land it would be "very much the last straw" for the scheme.
The charity had approached the Forestry Commission for permission to use a piece of of its land, but it was declined.
The commission said it wanted to enter into a long-term partnership with one environmental organisation to manage its estate "as a whole".
Ms Faulkner has appealed to any Dartmoor landowners for help finding suitable land.
"If there's anyone who can think of any ideas that might be able to help us get this project to work, please help us to do so," she said.
"If we don't, it's very much the last straw."