Legal highs hospitalise Dartmoor prisoners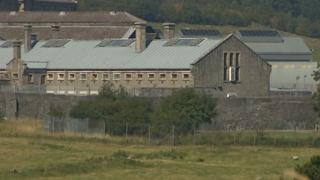 An investigation is being carried out at Dartmoor jail after three prisoners were taken to hospital "at varying levels of consciousness" on so-called legal highs.
Seven ambulances were called to the prison on Saturday after a number of inmates became unwell.
Three were subsequently taken to Derriford Hospital in Plymouth.
Designed to mimic the effects of illegal drugs, legal highs are on sale on websites and some high streets.
'Robust measures'
In a statement, the Ministry of Justice said: "A small number of prisoners received care in hospital after ingesting a substance believed to be a legal high. All are now in back in prison."
It said legal highs were classed as contraband and, as such, were not allowed in prison.
"Staff at HMP Dartmoor take the use of illicit substances in prison extremely seriously and use a range of robust measures to keep them out, including specially trained dogs, random drug tests and searches," a prison spokesman said.
"Anyone caught with such substances will be dealt with severely and can be referred to the police for prosecution."
According to a report from the National Programme on Substance Abuse Deaths, 68 deaths were linked to legal highs in the UK in 2012.