Poultry fire farm recovery 'will take 12 months'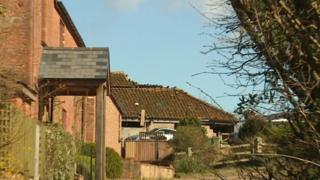 A poultry farmer who lost nearly 7,000 chickens in a shed fire, has said it will take a year for his business to recover.
The free range laying hens were killed when a fire destroyed the Rosamondford Farm shed at Perkins Village, near Exeter, Devon, on Sunday morning.
A neighbour who saw smoke drifting over the nearby fields raised the alarm.
"Realistically it will take 12 months to clear the site and get the business back up and running," Steve Slade said.
The farm, which has been in Mr Slade's family for more than 60 years, also produces more than 4,000 turkeys a year.
Devon and Somerset Fire and Rescue Service said they believed the cause of the fire was accidental.
"The important thing is that no-one was hurt," Mr Slade said.