Triage scheme helps mental health patients in police call-outs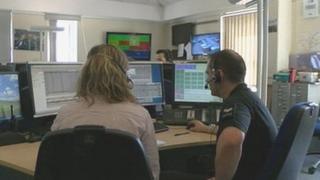 Mental health staff have begun working with police in control rooms to offer advice and information to officers responding to incidents in Devon.
The street triage pilot involves staff from Devon Partnership NHS Trust working with Devon and Cornwall Police.
The year-long scheme aimed to prevent people being taken into custody if not necessary and to help get them treatment, managers said.
Staff hoped to go out on patrols and call-outs later, they added.
Managers said the aim was to provide a night-time service when people needed immediate mental health support.
Team manager Karla Wilson-Palmer said: "It is early days, but having mental health professionals sitting alongside our police colleagues in their control room appears to be working very well and there are clear benefits for both agencies."
Ch Insp Matt Lawler, who leads command and control for Devon and Cornwall Police, said: "We're really encouraged by the start of this trial.
"Anything that can help us with information or advice around mental health issues is good for officers and is good for mental health patients."
The pilot follows a successful bid for funding from the Department of Health by the force.
It follows similar schemes across the country.