Warning over Burrator Reservoir dam abseiling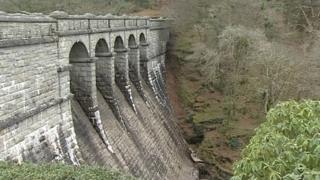 Security patrols have been increased at Burrator Reservoir near Plymouth after people were seen abseiling over the dam.
South West Water (SWW) said not only were they putting their own lives at risk, but by stretching a rope across the road over the dam, they were also risking the lives of others.
It has urged anyone who sees such a "dangerous activity" to report it.
In an emergency, access to the bottom would be "challenging", it said.
'Extremely cold water'
SWW said reports of abseiling and tombstoning - leaping from a height into water - were extremely worrying as reservoirs could be dangerous.
"We work closely with South West Lakes Trust to make our reservoirs accessible and pleasant for people to visit," it said.
"However, we would remind visitors that these are operational sites with hidden dangers.
"Every summer, we remind people not to swim in our reservoirs because there are no lifeguarding facilities, they are very deep - often with steep sides - and can be extremely cold.
"Similarly, dams are tall, steep structures and in some cases access to the bottom in an emergency would be challenging."
The company added that sightings could be reported to its 24-hour emergency helpline.