Cornish language gains £120,000 government funding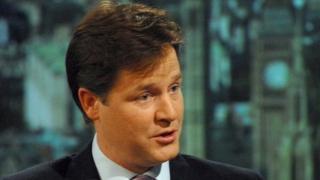 A Cornish charity is set to receive £120,000 of government funding to help "keep the Cornish language alive".
The Deputy Prime Minister Nick Clegg announced in Exeter that the Cornish Language Partnership is set to receive £120,000 next month.
The aim of the funding is to promote and develop the Cornish language.
Mr Clegg said: "It's a priceless part of Cornwall's heritage and right we have played our part to keep the Cornish language alive.
"Cornish is central to Cornwall's heritage and a living and growing language is what makes the region distinct.
"The funding will help the Cornish Language Partnership use the language to encourage more visitors to the area by promoting this unique identity."
The Cornish Language Partnership's Jennifer Lowe said the funding would "certainly help".
"The use of the language has grown considerably. People are very interested, it's not just the people in Cornwall, it's the level of interest of visitors to Cornwall as well.
"As that grows we're reacting to a lot more interest and a lot more work," she said.
Plans for the funding include working with businesses on the use of Cornish in branding and marketing Cornish products, and working with schools to increase the knowledge and use of the language.