Cash fears for farmers over 'expected drop' in lambs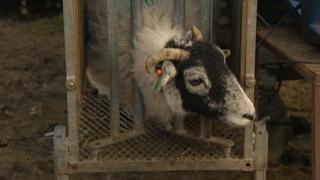 Farmers are set to lose thousands of pounds because of a massive fall in lamb stocks following three years of severe weather, it has been claimed.
Ultrasound scans have shown up to 15% fewer lambs could be born in upland areas like Dartmoor this year.
Farmers have blamed the severe weather for the reduced fertility of flocks.
Dartmoor farmer and scanner Layland Branfield warned there could be severe financial losses, adding it was "one of the worst years" he could remember.
Mr Branfield, who farms near Two Bridges and has scanned more than 120 other flocks, said ultrasound scans have shown on average 10-12% fewer lambs could be born this year, with some farmers expected to see a drop of 15%.
He said: "Some of the worst affected farmers may have 100-150 fewer lambs compared to last year, which is a severe financial loss - a lamb is worth between £40-£60."
He said that because of the cold weather in 2012, early 2013 and the stormy weather this year, the ewes were "struggling to get back into condition".
Mr Branfield, who has been a farmer for almost 30 years, said: "This means they don't release as many eggs, so the weather has reduced the fertility.
"We had a bad year in the mid 1990s but this will be one of the worst years."
Mr Branfield scans ewes from Tiverton in Devon to Bodmin Moor in Cornwall and said lowland farmers have not been affected.
Another farmer, Phil Able, described this year's lambing season as "a total wash out - a waste of time really".
Mr Able, who described his farm as being an "average size" for the area, said he expected to have 170 fewer lambs, losing him an estimated £10,000.