Residents oppose Combe Valley housing plan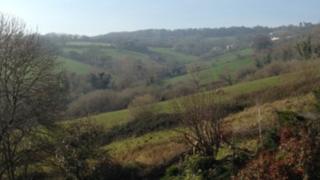 Residents living near to a Devon valley say a proposed development of more then 250 homes would spoil a "beautiful" area.
Developers have submitted plans for 255 homes in the Combe Valley, Teignmouth.
People living in the area say they have had "enough concrete poured over our fields".
Developers say they have held two meetings to discuss the plans with residents. A decision is not expected for several weeks.
'Lack of privacy'
Francine Winston, who lives near to the Combe Valley, said: "There have already been other developments in Teignmouth. It's so beautiful, we don't want it spoilt."
Diane Dobson, another resident, said the development would lead to a "complete lack of privacy" for existing home owners.
Rob Perry, who lives in the area, said: "We have had enough concrete poured over our fields. We hope the councils start to represent the true interest of the people. We have had enough."
The land has been allocated for housing in the Teignmouth District Council Local Plan.
In a statement, developer Peter Brett Associates said the "master plan which has been prepared with the application has sought to avoid potential overlooking through the location and orientation of dwellings".
It went on to say: "It reflects the need for housing, whilst providing open space and a bus route which will benefit existing and future residents."