Devon and Cornwall Police officer guilty of exposure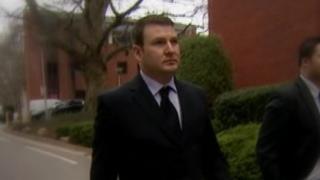 A former police officer has pleaded guilty to three counts of exposing himself in a public place.
David Salsbury, from Stoneycombe near Kingskerswell, Devon, admitted exposing himself at Brixham Police Station and two shops in 2012, while he was serving with Devon and Cornwall Police.
The 39-year-old was facing one further charge of exposing himself, but that was dropped at Exeter Crown Court.
Salsbury, who is no longer an officer, will be sentenced in May.
Police leathers
The court heard he might have committed the offences because of post traumatic stress disorder caused by incidents he had dealt with during his police career.
Salsbury, who was employed as a motorcycle officer, exposed himself while wearing police leathers. He initially claimed his actions were accidental and occurred while he was adjusting his clothing.
The court heard how the offences had resulted in him leaving his job and the breakdown of his marriage.
Salsbury exposed himself at Brixham Police Station on 16 June 2012, at a shop in Fore Street, Kingskerswell, on 14 October 2012, and a shop in Queen Street, Newton Abbot on 14 October 2012.
He denied a further allegation that he exposed himself at a pet store in Newton Abbot on 26 October 2012.
Salsbury was released on unconditional bail and will be sentenced on 2 May.